I have been researching different countries that are weeks in front of us with COVID 19 and their approaches to reopening salons. Although I am now aware that salons may open at the earliest (4th July ) I have already taken this research and enforced guide lines and have put these in place at Volume hair salon to ensure health and hygiene is at its highest.
For both staff and clients, a temperature gun will test anyone coming into the salon.
Each member of staff will be wearing a face mask made by the "Cambridge Face Mask Company" which unlike a basic face mask is completed with a inner filter that is made from 100% activated carbon cloth. These were invented originally by the UK ministry of Defence and used for protection in the event of nuclear, biological and chemical warfare. For more info on these masks https://cambridgemask.com/filter-technology/
Staff will also be wearing face shields along with their vented masks.
Disposable face masks and gloves will be available for our clients in the event of not bringing their own.
Perspex screen dividers have already been put in place between each cutting section, wash basins, reception and seating area.
Refreshments will be provided in disposable cups only.
All surfaces will be sanitised in a specifically formulated anti-bacterial spray intended for use against Coronavirus.
Each member of staff has a completed the course for "The BARBICIDE®️ COVID-19 Certification Program".
I am monitoring new information and guidelines across the world daily and shall of course update you as soon as new information becomes available.
Thanks for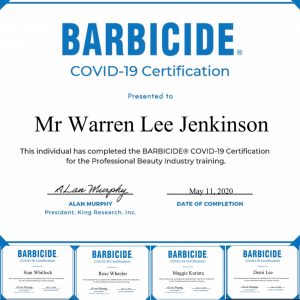 taking the time to read